Gulfstream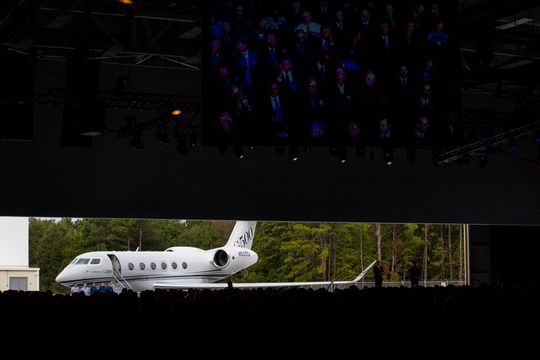 For years, Gulfstream secretly worked on developing and refining two new aircraft at their facility in Savannah, GA. When they were finally ready for a big reveal in 2014, they approached GPJ to honor the incredible amount of work and discretion needed to make these aircraft.
GPJ stepped up to the plate, designing and executing one of the largest and most successful clean-sheet aircraft reveals in Gulfstream company history. Emotions ran high among 3,000+ press, customers and employees as Gulfstream and GPJ projected a nearly five-minute, stunning multimedia presentation across a 150' x 25' projection surface running along the back of the facility. Gulfstream announced not one, but two aircraft – the G500 and the G600 – with 3D animations so vivid that the jet appeared to be coming right off the projection surface.
Mid-way through the program, a 70-foot/21-meter mockup of the G600 aircraft was revealed from behind a panoramic curtain. Most attendees would have assumed that the announcement of the aircraft program and this impressive life-size mockup comprised the pinnacle of the event, but they had another surprise coming.
At the conclusion of the presentation by Chairman and Chief Executive of General Dynamics Phebe N. Novakovic, the projection screen rose nearly 20 feet above the crowd, while the hangar doors opened simultaneously to reveal a G500 rolling into view. While competitors take various approaches to pre-selling an aircraft, a new model taxiing out under its own power during a launch is simply exceptional.
After a standing ovation from the crowd, the models immediately began generating orders from Gulfstream customers, and impressed national media outlets such as CNN and ABC.