Interactive Intelligence
Conference "reImagines" the customer experience, drawing 20% more registered partners and 21% more registered analysts than last year.
For Interactive Intelligence, successfully elevating their cornerstone conference, INTERACTIONS 2016, meant evolving it into a brand platform. While a big player in the cloud solution software space, they had yet to evangelize their customer community.
And so began some of our favorite kind of work: rediscovery of what makes brands great and rebuilding their customer experience.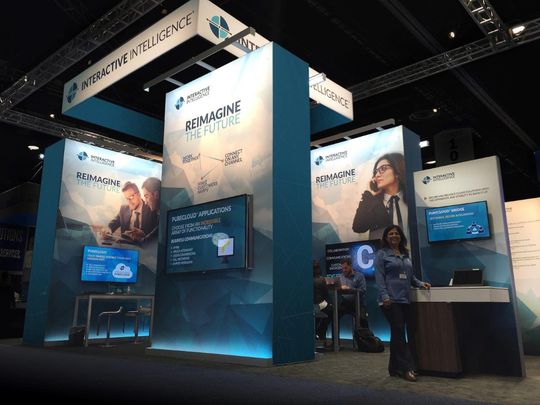 Delighted by the possibilities for growth after a 2015 audit, we partnered with six of our GPJ locations across the country to begin a strategically led journey to INTERACTIONS 2016. Those locations included:
New York
Tennessee
Michigan
California
Texas
We also worked with various Project agencies including G7, Spinifex Group and pulse220.
Our theme for the three-day conference was "reImagine," a direct call to attendees to rethink their future customer experience.
One way we took this concept further was with Legos, physically representing both imagination and flexibility.
From games to challenge tables and giveaways, attendees were encouraged to play, and more importantly, to play together.
Balancing moments of play with education and enablement was a key way to stimulate growth in their global community of customers, developers, partners, media analysts and consultants.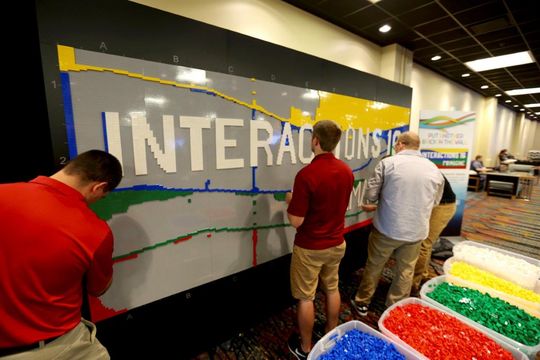 After "reImagine" sessions featuring the likes of industry leaders from Amazon Web Services and customers like GPJ and Quicken, we closed the conference with a killer concert from up-and-coming artist Saint Motel.
The impact of this year's conference on the customer community was noticeable – YOY registered attendees increased by 12%, with 20% more registered partners and 21% more registered analysts than last year. Sponsors, exhibitors, and Interactive Intelligence saw an average of 105 leads. In addition, attendee feedback not only demonstrated the success of the program, but also the future growth potential of the customer experience:
"We loved being a part of the conference and it's just been a great experience."
"Reimage the future – to me – means looking at the cutting-edge and being first-to-market."
"Reimaging the future means reconnecting with people, and that's what we're doing here."
"Yesterday was the busiest two hours of my life."
This year's INTERACTIONS 2016 conference set a new benchmark for Interactive Intelligence, and is now seeding a very promising experiential future for this global company.