Navistar
When Navistar's flagship vehicle brand, International Truck, began planning their first truck launch in over six years, they came to GPJ with a tall order: they needed to make some serious gains in the marketplace with a truly show-stopping event that highlighted the capabilities of their new Severe Service truck, the HX Series, in a jaw-dropping way.
We took that literally.
The event took place on an empty 5-acre dirt lot just off of the Las Vegas strip, which GPJ transformed into an industrial outdoor theatre. The show began with introductory remarks from the CEO, which were shortly interrupted…
"We have a little bit of an issue…" President Bill Kozek said to the audience, "…I'm told it's on the news and I believe we have a live Channel 9 News Feed."
The audience watched in surprise and delight as a faux news broadcast showed a heist of a featured HX Series truck and a police chase heading straight toward the event site. And then…
BOOM!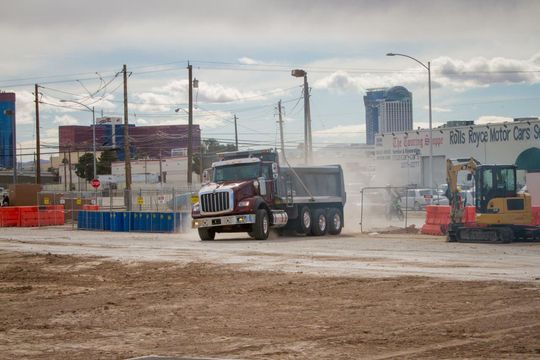 The HX exploded onto the lot in dramatic fashion where it showcased its strength, maneuverability and agility.
After a quick 30-minute presentation, guests were invited to drive the HX and perform the maneuvers they witnessed moments ago.
This dramatic, unconventional product reveal was a smashing success. Sales exceeded their event-day goals and quadrupled to nearly 500 orders one month after the event. In addition, the YouTube recap of the launch has been viewed almost 20,000 times.
This unforgettable event successfully initiated immediate orders, drove awareness and buzz, and rallied media and dealer support for International Truck and the new HX Series.
"For this launch event, we wanted to do something unconventional and make some noise in the marketplace. Our partners at George P. Johnson knew how important this moment needed to be and they brought us a wild idea that captured the spirit of the HX perfectly. Our customers, dealers and employees were thrilled at how it all came together and it has spurred an incredible start to our 2016." — Mark Johnson, VP, Marketing