Mazda
Mazda partners with GPJ to elevate brand positioning to "Premium" at NAIAS.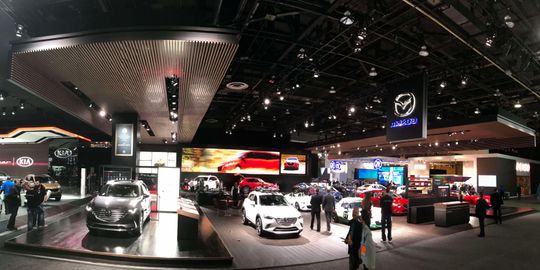 • Inspired by the Maker Movement and fine Japanese craftsmanship
• Increased traffic and engagement as well as increased post-show dealer visits
Mazda partnered with GPJ to create an auto show experience at NAIAS in Detroit that transitioned the brand's positioning to 'Mazda Premium.' We knew in the modern auto show landscape, people aren't just searching for their next car; they're looking for a meaningful experience. With that in mind, we didn't want to deliver just another stand design, we set out to create a storytelling platform.
Our inspiration began with understanding the rise of the Maker Movement that has transformed the meaning of premium across countless product categories. This success is driven by people who value craftsmanship and quality, cherish thoughtfulness and relish in sharing the story behind their purchase decision. As we immersed ourselves in the brand, we discovered that Mazda shares these same attributes. This became the catalyst for our experience.
From our materials selection to the incorporation of Japanese joinery, we set out to create a booth design that reflected the craftsmanship, quality and thoughtfulness that is part of Mazda's DNA. From there, we created a consumer journey through a variety of graphics, displays and engagements that allowed our guests to understand the philosophy and humanity behind the brand.
This journey was spread across four key engagement areas, each telling a different story:
Mazda Design: media, interactive displays and a Leap Motion clay sculpting experience showcased how Mazda designers breathe life into every creation
Mazda Craftsmanship: a demonstration of the materials, tools and time honored processes that influence the interior and exterior beauty of every Mazda
Mazda Innovation: the center piece, a Leap Motion VR experience, immersed guests in the brand's Jinba Ittai philosophy, a human-centric approach that informs every Mazda creation
Mazda Performance: a combination of media and three-dimensional displays highlighting the elements and benefits of SKYACTIV Technology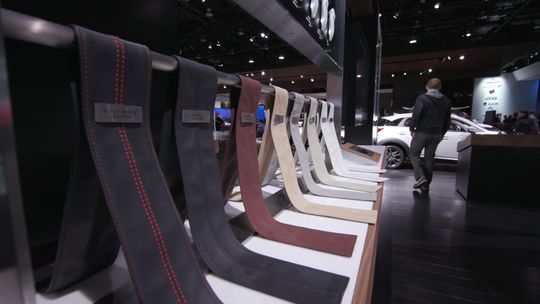 The 'Mazda Premium' experience at NAIAS was an unequivocal success. The newly designed booth led to a substantial increase in foot traffic and guest engagement as well as an uptick in post-show dealer visits. Additionally, the creative idea was then amortized across all of Mazda North American auto show appearances.