Dodge
• Dodge and GPJ go outside the confines of the NY Auto Show to launch the fastest street legal, production drag car in the world
• Pre-programmed lighting, video and audio enabled restrictive load in time
• Celebrity guests included Vin Diesel and Wiz Khalifa
• 500 onsite and 55k online participated
• 600k views of the launch within 12hrs of the event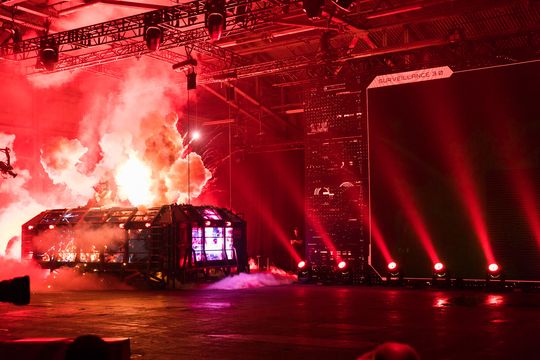 Dodge is a legacy brand that does things on its own terms, so it's no surprise that when they launched the new Challenger "Demon" during the New York Auto Show, they stepped outside of the confines of the convention center to create an experience like no other.
With a relationship that spans 7 decades, GPJ knows the Dodge brand, and was the perfect partner to provide everything needed for an explosive off site and live online launch that would be the talk of the automotive show and industry.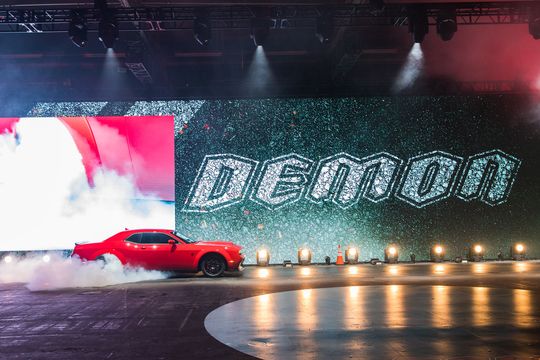 Setting the Scene
Pier 92/94 on the Hudson River was transformed to stage the launch, complete with a custom drag strip and pyrotechnics, massive LED screens, hero cars from the Fast and the Furious movies, food and beverage service and a DJ booth.
Oh, and one little kink, our live production team had 18 hours to load in and be ready to go. For some teams, this would be impossible, but not ours. Instead, all of the lighting, audio and video was pre-programmed, which was the only way to pull off a production of this complexity with such little time.
Going Live
500 members of the media, Dodge executives, celebrities and influencers were treated to an orchestrated feast of the senses.
Movie-quality digital and audio content provided by partner agency Synchrony accompanied the set up, which included Head of Passenger Car Brands for FCA Tim Kuniskis and "The Fast and the Furious" star Vin Diesel.
The world's fastest street legal production drag car couldn't just lumber onto the scene. Instead, the "beast" escaped a custom built cage, screaming past the audience down the custom built drag strip with the front wheels lifting off the ground.
After the dramatic reveal, attendees were treated to a reception DJed by Atlantic recording artist Wiz Khalifa, during which they had a chance to get a closer look at the new Demon and other Dodge hero cars.
Results
Working with Dodge and our video production team, we built the excitement over a period of weeks to the live stream of the event, broadcast on the Dodge web site. Over 55k viewers participated online, and thousands more witnessed the release as it took over multiple screens in New York's Times Square. Within 12 hours of the event there had already been 600k views of the launch, and thousands more since on the Dodge Demon Web site.