Honda
As one of the most recognizable leaders in the automotive industry today, it's safe to say that Honda knows a thing or two about motor vehicles. But when it came to designing a permanent installation that would improve visitor and associate understanding of Honda's philosophy and company direction through engaging activations and experiences, our trusted client of 36 years turned to GPJ.
Honda challenged us to create an interactive experience that incorporated the latest technology, digital images, videos, live streaming and communications. In addition, the space needed to deliver target messages at specific times to coincide with launches and key announcements, with messaging feeding from a content management system that could run from personal computers.
And so, after two years of planning and designing, "The Power of Dreams Store" opened for business inside American Honda's corporate lobby.
Today, the permanent installation provides an exciting environment for Honda to showcase current products, values, attributes and technological advancements. The designs and engagements are unique, creative, and designed to connect with people in ways that are personal and relevant.
The store was part of a multi-phased remodel of American Honda's corporate lobby:
Phase 1 started back in July 2014 when GPJ and Honda first started talks about the lobby redesign.
But in this initial phase, the retail store concept wasn't on the table yet. In fact, the original vision was to take Honda into the digital age, managing real-time content and also transforming static information by incorporating a mini theatre and interactive screens with live feeds.
So GPJ focused on creating digital enhancements, designing and installing a lobby theater and two digital storytelling walls.
Then, six months later, the concept of a retail store was born and phase 2 officially began.
Coupling the "The Power of Dreams Store" with the existing Starbucks "Power of Dreams" Café in the lobby, GPJ worked to match and complement the current lobby design in the newly constructed, permanent retail store.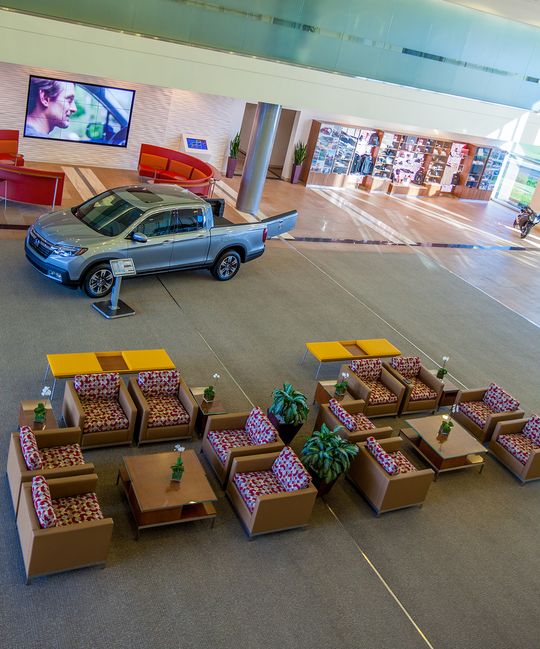 By combining GPJ's experience in architectural design and fabrication, content delivery, and technology creation, with Honda's vision of showcasing their enhanced digital capabilities, the "The Power of Dreams Store" sets the tone for the corporate lobby. With hundreds of American Honda employees and visitors passing through the lobby each day, combined with Starbucks employees and customers, this permanent installation constantly acts as a central hub for people to sit, talk, and gain a better understanding of Honda's philosophy and company direction.